Another year has come and gone,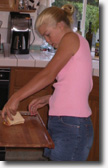 carved up like one more turkey sandwich in the hands of a twelve-year-old girl on her way to the first day of Junior High. And as much as we'd like to fill this opening paragraph with turkey metaphors, none really come to mind. The year was neither crumby nor drenched in mustard or mayonnaise. And unlike that turkey sandwich, we all made it through the year intact, a bit older, and perhaps even wiser. The sandwich, alas, was consumed by Bridget, much in the way we consumed the year.
The Meyers Wear Hats

The Meyer Clan of El Dorado Hills has decided to wear hats or, in the case of some of the younger members of the family, visors. Whether this establishes a fashion trend for the rest of the county remains to be seen. No authorities were available for comment.
Jen Jumps Jobs. Again.

For the third time in as many years, started yet another job. In late July, she bade farewell to her severely acronymed (CVT/XRT) job with Sutter Memorial Hospital and took on the challenge of being SimSuite coordinator at the U.C. Davis Medical Center. Jen is pictured here calling her husband to urge him to go easy on the turkey metaphors. Jen's new role has her working with a sophisticated mannequin (or, at the least, an exceedingly polite mannequin) and a host of computer gadgets, doohickeys, thingamabobs and doo-dads. Naturally, her company (Medical Simulation Corporation) has actual names for everything, but nobody really understands any of that stuff anyway.
Sandy Times in the Lost Dunes
It was a serene and sandy day for Miss Bridget, who stumbled upon the Lost Railway of the West. Thatís Bridget, in blue, walking the tracks.
Bridget's Basketball Binge Broadens

Bridget borrowed a page from Momís heavy use of acronyms and embarked upon a career in basketball, starting with the EDHYB hoops last year, and continuing this year with the AAU, NCBA, and finally the JBA. All of this basketball frenzy began to pay off in the form of tickets, first to a Monarchís game, and finally to a pair of Kings games. Bridgetís game has improved markedly, and her defensive skills are rapidly becoming legendary.
Adventures of the Equestrian Kind

It was off to the southern reaches of California ó Pauma Valley, to be exact ó for Bridget this summer, where she learned the finer points of horseback riding, visited the fabled San Diego Zoo, and visited Sea World. And to top it all off, Bridget finally met her long-lost cousin Samona, who had been living abroad.
Jim Takes Year Off to Raise Kitten

Jim took a break this year from the arduous task of not writing the Great American Novel and instead elected to instruct the newly arrived Cato the Kitten in the fine art of the catnap.
Happy Holidays!

We hope you all had a great year, and we wish you and yours health and happiness in the year to come! And since there's more space to fill, we hope your car runs great and the weather's fine! Hmm? There's still more space? Um... we wish you all the best! The best of the best! The best that there is, and then some, and more of it than ever! (Whew!)